We frequently get requests for certain features to be customized in MyConferenceTime.com.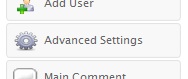 The most requests were for hiding the "Register for Multiple Conferences" link on the main page (and on staff pages when a staff member has more than one conference schedule available).
We are pleased to announce that account administrators now have the ability to hide the multiple conferences link. This can be done using the "Advanced Settings" link in the left column (admins only).
When viewing the advanced settings, account administrators will also see there are several other settings that they can customize.

In addition to the link for multiple conferences, admins can also specify whether the "Request staff account" link will be visible to anyone who is not logged in. (This is useful if all of your staff members have accounts set up and you don't want to receive any more requests to approve additional accounts.)
And finally, staff names on the main page can be displayed in one column or two columns. (If you have many staff members, it might be easier for parents to find staff names in one column instead of two.)
The image displays the default settings for all accounts: the link for multiple conferences is visible, the link to request a staff account is visible, and the staff members are displayed in two columns.