Staff development just got easier!
MyWorkshops simplifies staff development. Gone are the days of shuffling papers, the hours trying to figure out who is registered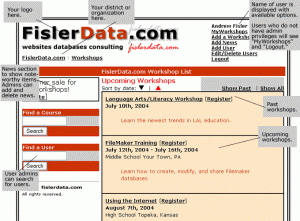 for your courses, and the headache of dealing with people calling, emailing, faxing, and mailing registration forms. Even post-course evaluations are handled by MyWorkshops! Now course registration is as easy as a few simple clicks. And you get to focus on what really matters – the content, the instruction, and the participants.
With MyWorkshops, workshop participants register online for courses you are offering. Simply enter basic information about the course, specify the maximum number of participants, and let MyWorkshops handle the chore of registering users and keeping track of the participants. You can view a list of participants, or even download an Excel file of user information.
In addition to registering participants, MyWorkshops tracks courses taken by all participants. Need to know what courses have been taken by a member of your staff? MyWorkshops displays upcoming and previously taken courses.
Staff members who want to verify course information can use MyWorkshops to check upcoming courses as well as look up courses previously taken. After logging in, your staff has access to workshop dates, times, and locations.
MyWorkshops is designed to simplify workshop administration while providing necessary tools to have successful workshops. That's why an email containing all workshop registration is sent to the participant as soon as he/she registers for a course. Not only can the participant check course information online, he/she also receives a message in his/her inbox.
Being educators, we know that sometimes circumstances change prior to the start of the workshop. If you need to notify course participants, use the group email feature to send email to one, several, or all of those who are registered.
We also know that you want feedback on courses. That's why we included survey and evaluation creation tools to gather participants' opinions. Create a survey, let participants complete it online, and view results. All responses are displayed in an easy-to-read format.
Be sure to check out more of the features of MyWorkshops. We think you'll like what you see.
Please give MyWorkshops a try. Better yet, contact us to get your own free trial account set up.